I was asked to recreate a classic band pic of the Red Lemons Electric Blues Band for the local paper, to celebrate their 30th anniversary. They had reformed to do some anniversary gigs, and a 1980's promo pic featuring the band with an American car was the model and inspiration for the new shoot.
The reporter on the phone said "Next Wednesday, four o'clock, Base Studios, Stourbridge."
At ten to five, on the Tuesday before, same reporter said "Somebody's dropped a whoopsy, the band are there now (30 miles away) and waiting for you. They leave at six. Is the picture going to happen?"
There was heavy rain, temporary traffic lights and rush hour traffic between them and me. Smiling, I did a U-turn and headed for the fun that was Tuesday tea-time traffic trauma…
The band had just finished rehearsing as I arrived at one minute to six.
Miraculously, the downpour ceased on my arrival. A suitable backdrop location was found on the industrial estate while the band changed into stage clobber, and the owner of the American car did his best at squeegeing the rain off the bonnet.
These two pix show the before and after effects of photo-processing.
The first is straight out of the camera, the second shows judicial burning, shading, cropping and some colour compensation, ready for publication.
The whole shoot took less than five minutes, so my particular thanks go to the car owner who could accurately reverse park the American beast first time, the bunch of thoroughly nice professional lads who posed without prompting, and the God of Reflections who gave me the image of the musician at far right.
Red Lemons Electric Blues Band. At the time I never even noticed the Red brickwork, Lemon (yellow) parking lines, Blues car, shoes, door and window frame.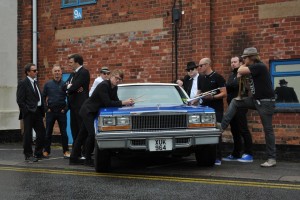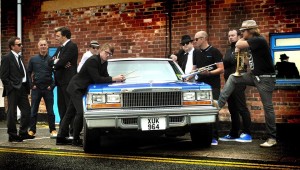 Honest.