Stourbridge's Mary Stevens Park had an extensive (and probably expensive) refurbishment of their 1931 main gates, which are modelled on the ones at Buckingham Palace. Funding came from the Heritage Lottery Fund and Big Lottery Fund.
"Can you get a picture of the gates?" An obvious if seemingly uninspiring request from the Stourbridge News reporter covering the refurb sent me waddling up to the park to do battle, dodging dog walkers, dodgy car parkers and podgy joggers. Phew!
My first shots were perfectly useable, nicely framed and lit images of the new(ish) gates.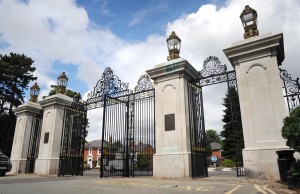 In a fit of mad enthusiasm – steady Phil – I mooched around for another angle, a different take that might add a bit more colour to the mighty edifice…
A nearby flower bed in the shadows was brought into play, along with dog walker and joggers. 24mm wide angle on my Nikon, a touch of fill flash on the geraniums (I think that's what they are) and I ended up with something that said a bit more about the park entrance.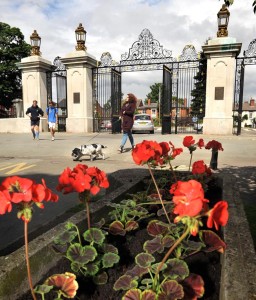 I truly detest the phrase job done, so I'm not going to say it.
However…