What's occurring is my sixty-sixth birthday. And Dot and I chose to occur it on the Gower Peninsula. Wales. UK.
Ten years ago we visited the Gower. The King Arthur at Reynoldston was good a decade ago, and blow me, it still is. Well done somebody.
I love the idea of hitting a cattle grid, then making your way over common land to a pub with a comfy bed, good beer and tasty food. Simple always wins.
I would imagine to buy a home on the Gower now costs an arm and several legs, and whether you'd want the kind of neighbours who can afford to buy into such a place is something else, but the area is still outstanding.
The National Trust own and manage a decent chunk of the Gower, and Rhossili Beach is acknowledged as being one of the world's best. And it's in Wales. Well done somebody else.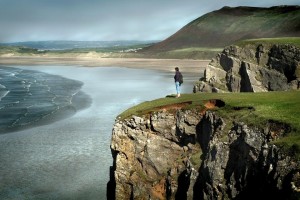 Port Eynon and Oxwich Bay, where there must have been at least seven people on the beach, came next. A quiet hour watching the waves and dog walkers, listening to The Unthanks, I thought I'd died and gone to Barry Island. But that was tomorrow.
Land of Gavin and Stacey, The Island provided coffee and a stunning almond croissant at Marco's, followed by a stroll along the collonades and palm trees, and friendly conversations with other visitors. There was a sense of The Prisoner in the surreal September afternoon sun.
I first came here over fifty years ago on a coach trip from the Black Country, a day out at the seaside, and I don't remember a single thing. Yet a couple of hours strolling up and down the front brought back no memories whatsoever. Funny that.
However, we both realised we will come back. The place is friendly, quirky, and inviting. People of a certain age talked to each other.
Who'da thought it? Is this what happens when you hit Route 66? Not so bad so far…