LOW ANGLE – HIGH JINX
A phone call from Dudley's press department, and in no time at all I'm lying on my back in the street photographing a horse, a brewer's dray, two blokes wielding Black Country pints, a dog and Black Country Mon (replete with dodgy underpants – not a good look!)
Must be carnival season, and Stourbridge Carnival in particular.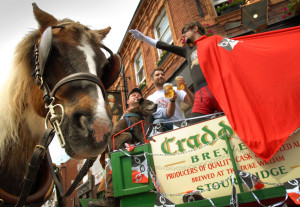 A touch of fill flash, a lot of dodging horse slobber, and loads of shouted directions to people who have no idea what I can see in the viewfinder.
And then it's the turn of another photographer. Then another. Often with jobs like this it's a battle with the organisers who want to get the world and it's uncle into the picture, not realising that more is less, and having no concept at all of the limitations of a three column by eight centimetre space in the local paper.
My take on the photo opp is shown above. The reality of the job is shown here with Phil Parker from Dudley Council press office standing in as wind machine, and Patrick Mulvaney from the Express and Star shouting the directions.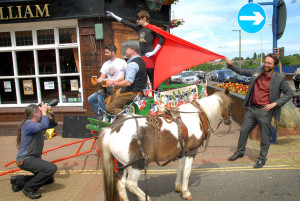 Fun, fun. And fun…